Custom Design that are designed engage.
Our Shopify web designers create functional Shopify stores that are arresting and designed to convert and engage. Contact us to find out more about how unique branding and smart design can set your store apart.
Digital Marketing, SEO or social media management.
Whether it's SEO, PPC, social media or newsletter management, our marketing experts can create a custom digital marketing campaign that grabs attention for any Shopify store.
Custom Development that build dazzling sites.
Our Shopify Plus web developers take the beautiful work done by our designers and bring it to life. Our web developers are Shopify experts that build dazzling sites which don't need to sacrifice functionality or speed.
We're Shopify Plus experts
Developify Solution provides best-in-class Shopify Plus development, design, conversion rate optimization, and user-experience design services. We act as a strategic partner to your brand, aligning ourselves with your business goals to tell your brand's story and drive growth.As a Shopify Plus design & development partner, Developify Solution works closely with the Shopify team on a wide variety of projects. We're a full-service eCommerce digital agency that handles Shopify store design, web development and digital marketing for enterprise Shopify merchants. We pack an ever-expanding arsenal of Shopify developers and Shopify Plus designers to meet the complex needs of enterprise clients.
Integrations
Developify can integrate Shopify Plus into your ERP, IMS and other 3PL's to streamline back office operations.
We partner with industry leaders such as Yotpo, Gorgias, Klaviyo, ReCharge, and many others to create an amazing experience for your customers.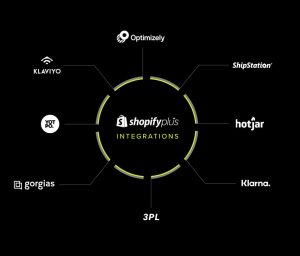 Shopify Portfolio
We design, build and support websites and apps for clients worldwide. We make your business stand out. Interested? Let's chat.
Developify matches the feel of your business.
Consult our experts about your project for free
Get started